Hola amigos de este blog hoy les quero presentar mi mejor post de fin de año con mi banda japonesa favorita que toca Power metal,les traigo la discografia completa hasta el momento a medida que sigan saliendo nuevos albunes los subo n_n
Galneryus es una banda Japonesa de Power Metal con influencias de leyendas del metal como Dream Theater, Helloween, Sonata Arctica, Stratovarius y X Japan con un guitarrista muy virtuoso como Syu y un tecladista excepcional como Yuhki haciendo las armonias y la potente voz de Yama-B


Galneryus


Información personal
Origen
Japón
Estado
En activo
Información artística
Género(s)
Power metal
Speed metal
Neo-classical metal
Período de actividad
2001 - Actualidad
Discográfica(s)
VAP Records
Web
Sitio web
http://galneryusyumacher.com/
Miembros
Syu
Masatoshi Ono
Yuhki
Taka
Junichi Satoh
Biografía
Galneryus es una banda de power metal, encabezada por el guitarrista/virtuoso Syu ex(Animetal).
Es difícil hablar sobre su sonido encasillandose en un estilo; considerando que podrían pasar por una banda metal Europea o Estadounidense y a su vez con cierto origen fuerte de metal japones, son generalmente caracterizados como la mezcla perfecta y mas veloz del power metal europeo (Stratovarius, Sonata Arctica) con el metal visual Japones (X japan, Onmyousa), sin obviar el aporte personal de Syu el cual compone y arregla todos los temas y solos llegando algunos a hacer del largo e intensidad de una verdadera obra de concierto.
Galneryus comenzó en 2001, creada después que el guitarrista Syu tuviese la idea de iniciar una banda de power metal, diferente a sus bandas anteriores. Sólo al poco tiempo de la separación de su banda Valkyr, Syu comenzó el nuevo proyecto junto al vocalista YAMA-B, a quien descubrió escuchándolo cantar por la radio. Ambos músicos son de la misma localidad y compartieron la misma idea de comenzar una banda de power metal. Después de haber reunido a algunos músicos de soporte comenzaron a escribir canciones, ensayar, dando conciertos y contribuyendo con algunas canciones a discos omnibus, los cuales llevaron al lanzamiento de su primer demo "United Flag" en 2003. Como muchos artistas novatos, sólo lanzaron un número limitado de copias. En el mismo año lanzaron otro demo "Rebel Flag".
Fue la pasión de los integrantes de la banda que los ayudarían a conseguir un contrato de grabación: el sello VAP (el cual también es el sello de Animetal, donde milita Syu) les propuso un contrato que consistía en el lanzamiento de su primer álbum, "The Flag of Punishment", en octubre de 2003.
En su primer LP ya marcan claramente lo que posteriormente se convertirá en su sonido característico. Este disco fue bien recibido por el público y adquirió la aprobación de la prensa. Desde ese entonces la banda ha sido considerada como parte creíble e innovadora de la escena musical Japonesa.
Pero su segundo álbum, "Advance to the Fall", lanzado en marzo, reveló a la banda al resto del mundo, especialmente gracias al Single "Silent Revelation". El álbum se convirtió en un verdadero éxito.
Después de una serie de conciertos (para Syu con Animetal y Galneryus), la banda se retiró al estudio nuevamente a grabar su tercer álbum "Beyond the End of Despair", lanzado en julio. El álbum fue mezclado y editado por el equipo Sueco SHEP, dándole a su sonido más cercanía a las bandas metal europeas. Pocos meses después la banda lanzó su primer DVD en vivo, "Live for Rebirth", el cual muestra a la banda durante sus conciertos de su gira Die for Rebirth.
Después de participar en el evento Pure Rock Japan 2006 y contribuir al álbum compilación "Tribute to Death Note", el bajista Tsui dejaría la banda a principios de 2007.
Lanzan su 4º Lp, "One for all – All for one", contando con el nuevo bajista, Yu-To (Deluhi), en sustitución de Tsui.
El 5 de marzo lanzan un DVD grabado durante el Final de su Gira Live for All - Live for One.
El 19 de marzo lanzan un Maxisingle 'Alsatia/Cause Disarray' El cual contiene el Opening y Ending respectivamente del Anime Mnemosyne no Musume-tachi además de otros dos Tracks.
Esa misma fecha Galneryus se presenta en vivo como uno de los invitados en el evento Tokyo Metropolis, organizado por la Sherow Artist Society y la banda visual kei Versailles. Tocan en vivo junto a Versailles, Mantenrou Opera, Chariots y 12012. El 18 de mayo comenzarán su Nuevo Tour por Japón llamado 'Path to the Fifth Flag'.
El 30 de julio lanzan el single "Shining Moments" como adelanto de su próximo álbum.
El 10 de septiembre sale al mercado su quinto álbum, "Reincarnation".
Un mes después, Yama-B (cofundador y vocalista) comunica que dejará la banda una vez finalice la gira de presentación de "Reincarnation".
Masatoshi Ono (SHO) es anunciado como nuevo vocalista. También se incorpora a la banda Taka, en sustitución de Yu-Toh.
A finales de marzo se anuncia el que será su sexto álbum de estudio y primero con la formación actual. La fecha prevista para su lanzamiento es el 23 de junio de 2010 y llevará por nombre "Resurrection".
El 21 de Abril saldrá a la venta un single conteniendo 3 nuevas canciones. Una de ellas, "A far-off distance", será el ending de la serie de anime Rainbow.
Miembros
Anteriores miembros








ORIGINAL ALBUMS



Galneryus - The Flag Of Punishment (2003)
1. Meditation For The Saga
2. Struggle For The Freedom Flag
3. Beyond Of The Ground
4. In The Delight
5. Rebel Flag
6. Requiem
7. Holding The Broken Wings
8. Child Of Free
9. Final Resolution
10. The Garden Of The Goddess
11. United Flag
Galneryus - Advance To The Fall (2005)
1.STILLNESS DAWN
2.SILENT REVELATION
3.ANCIENT RAGE
4.FATE OF THE SADNESS
5.DEEP AFFECTION
6.DREAM PLACE
7.GLORIOUS AGGRESSOR
8.WHISPER IN THE RED SKY
9.THE SCENERY
10.ETERNAL REGRET
11.QUIET WISH
12.FLY WITH RED WIND
13.UNDER THREAT
(Bonus Track)
Galneryus - Beyond The End Of Despair (2006)
Tracklist:
1.ARISE
2.SHRIEK OF THE VENGEANCE
3.RAID AGAIN
4.SHIVER
5.POINT OF NO RETURN
6.IN THE CAGE
7.HEAVY CURSE
8.VANISHING HOPE
9.DAWN OF TRAGEDY
10.MY LAST FAREWELL
11.BRAVING FLAG
12.REBIRTH
Galneryus -
Live For Rebirth (2006)
Tracklist:
1- Arise
2- Shriek Of The Vengeance
3- Raid Again
4- Shiver
5- Deep Affection
6- Drum Solo
7- Vanishing Hope
8- Heavy Curse
9- My Last Farewell
10- Braving Flag
11-Glorius Agressor
12-Whisper In The Red Sky
13-Silent Revelation
14-Struggle For The Freedom Flag
15-United Flag
16-Rebirth
17. Serenade (Unreleased Bonus Track)




Galneryus – One For All, All For One (2007)
1. Red Horizon
2. New Legend
3. The Night Craver
4. Aim at the Top
5. Everlasting
6. Last New Song
7. Don't Touch
8. The Flame
9. Chasing the Wind
10. Sign of Revolution
11. Cry for the Dark
12. The Sun Goes Down






Galneryus - Reincarnation (2008)
1. Owari Naki, Konoshi
2. Blast Of Hell
3. Blame Yourself
4. Shining Moments
5. Against The Domination
6. Wind Of Change
7. No Exit
8. Stardust
9. Face To The Real
10. Seasons Cry
11. Fairy Tale
12. The Flag Of Reincarnation
Galneryus- Resurrection (2010)
Tracklist
1. United Blood
2. Burn My Heart
3. Carry On
4. Destinations
5. Still Loving You
6. Emotions
7. Save You
8. A Far-Off Distance
9. Fall In the Dark
10. Destiny
11. The Road Goes On
SINGLES
Galneryus -

Rebel Flag Demo (2002)
Tracklist:
1. Rebel Flag
3. Final Resolution
Galneryus - Everlasting (2007)
1. Everlasting
2. Future Light
3. Bleed In Chaos
Galneryus -Alsatia / Cause Disarray (2008)
1. ALSATIA
2. WINGS
3. THE AWAKENING
4. CAUSE DISARRAY


Galneryus-Shining Moments (2008)
Tracklist:
3.- Allegiance To The Lunatics
BEGINNING OF THE RESURRECTION (2010)


Tracklist:


A FAR-OFF DISTANCE (Rainbow Mix)
・DESTINY (MV Mix)
・YOU'RE THE ONLY... 2010

Galneryus The Best Of... 2001-2008
Tracklist:
01 - The Awakening
02 - New Legend
03 - The Nightcraver
04 - United Flag
05 - Point of No Return
06 - Shriek of The Vengeance
07 - Silent Revelation
08 - Braving Flag
09 - Sing of Revolution
10 - Everlasting
11 - Raid Again
12 - Struggle For The Freedom Flag
13 - Ancient Rage
14 - Beyond Of The Ground
15 - Rebel Flag
16 - Last New Song
17 - Thunder Rising (Gary Moore)
18 - Black Diamond (Stratovarius Cover)
19-Soldier Of Fortune(Loudness Cover)








Best Of The Braning Days (2009)


1. BRAVING FLAG
2. WHISPER IN THE RED SKY
3. SHRIEK OF THE VENGEANCE
4. REBEL FLAG
5. SHIVER
6. THE SCENERY
7. RAID AGAIN
8. FINAL RESOLUTION
9. POINT OF NO RETURN
10. STRUGGLE FOR THE FREEDOM FLAG
11. MY LAST FAREWELL
12. QUIET WISH
13. UNITED FLAG
14. SILENT REVELATION
Best Of The Awakening Days (2009)
1.THE AWAKENING
2. NEW LEGEND
3. SHINING MOMENTS
4. BLEED IN CHAOS
5. STARDUST
6. SIGN OF REVOLUTION
7. SERENADE
8. CHASING THE WIND
9. ALSATIA
10. CRY FOR THE DARK
11. SEASONS CRY
12. EVERLASTING
13. 終わりなき、この詩(Owari Naki, Konoshi)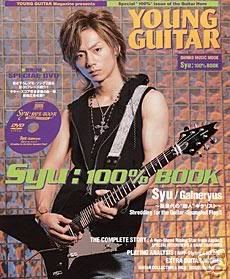 01 - Guitar demo #1
02 - Guitar demo #2
03 - Whisper in

the red

sky
04 - Struggle for the freedom flag
05 - United flag
06 - Silent revelation
07 - Shriek of the

vengeance




ALMBUNES COVER




Galneryus - Voices from the Past I (COVERS)
01. Pictured Life (Scorpions cover, seleccionada por Syu)
02. Thunder Rising (Gary Moore cover, seleccionada por Yama-B)
03. Go (Asia cover, seleccionada por Yuhki)
04. Waiting for the Night (Vandenberg cover, seleccionada por Yu-To)
05. Whole Lotta Rosie (AC/DC cover, seleccionada por Junichi)
Galneryus - Voices from the Past II (COVERS)


1. 1789 (Silver Mountain cover)
2. Secret Loser (Ozzy Osbourne cover)
3. Rise or Fall (Leatherwolf cover)
4. Sole Survivor (Asia cover)
5. Fire Wind (Electric Sun cover)
Galneryus - Voices from the Past III (COVERS)
1.Queen Of The Reich (QUEENSRYCHE)


2.Rock You Like A Hurricane (SCORPIONS)




3.Deja Vu (YNGWIE J. MALMSTEEN'S RISING FORCE)




4.November Is Going Away (JOSHUA)


5.Kiss Of Death (Dokken)
Este Post fue reconstruido ya que habian unos linkS rotos (arreglados),ademas me faltaban unos discos y aproveche de ordenar un poco espero que disfruten con esta grandiosa banda de Power Metal proveniente de Japon llamada Galneryus!!!!!!!!!!! ahhhhh y no olviden comentar n_n